SLOW COOKER PORK CHILI
Serves: 6 ~ Serving Size: 1 1/4 cup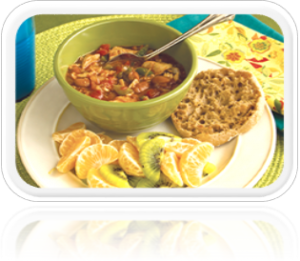 INGREDIENTS:
2 pounds boneless pork butt, roast, or shoulder
1 cup bell pepper, diced (1 medium pepper)
1 cup onion, diced (1 medium onion)
1 1/2 cups salsa
1 can (15 ounces) low-sodium pinto beans
1 can (14.5 ounces) low-sodium diced tomatoes
DIRECTIONS:
Trim visible fat from the pork. Cut into 2 inch chunks. Place in slow cooker.
Add pepper, onion, and salsa.
Cook on a low setting for 6 hours or a high setting for 3 hours.
Pull the meat apart into shreds with a fork. (You should have about 4 cups.)
Put half (2 cups) of the shredded pork in the refrigerator or freezer. (This could be used for the February recipe, pork sandwiches.) Freeze pork if it will not be used within 4 days.
Return the rest of the pork to the slow cooker. Add pinto beans and diced tomatoes.
Cook another 30 minutes until hot.
TIPS:
Pork chops, boneless pork rib, or pork loin can be used. They will be more expensive but have less fat.
Trim fat from pork with a clean knife on a clean cutting board.
This recipe freezes well.
Other beans can be used.